Thank God I am finished with this project!!! It took me a while to get around to it, but it is finally done. Here is the duvet cover I made for my niece's room. I spread it out on my queen size bed for the photo, and it doesn't have a duvet in it, but you get the idea. I think it turned out really well.
I worked on this sucker all weekend long. When I went to bed Friday night I was determined to finish it before the end of the weekend. I'm so happy that I did! I didn't get it done all at once, but it's finished, which is the most important part.
I'm not sure if you can tell from the picture, but it is made of a tiny leopard print. The top 1/3 is the pink, the bottom 2/3 green. I sewed fabric covered buttons in the opposite color on the top part, but that is purely decorative. I used snaps at the bottom of the duvet to allow for easy insertion/removal of the duvet. The back of the duvet is the complete opposite, with green at the top, pink buttons, and pink at the bottom. Technically it wasn't difficult to make, as it is all straight seams, but every seam is a french seam because I don't have a serger and I didn't want any raw edges on the inside. It was also a major pain in the butt to measure and cut the fabric. It required me to move my furniture around in my living room in order to spread it all out. Plus, crawling around on the floor while you're 7 months pregnant isn't much fun either.
This duvet cover coordinates with the bedskirt and window treatment I made this past summer. I couldn't find a blog post about it, but here it is, hanging on a broom stick in my entry way.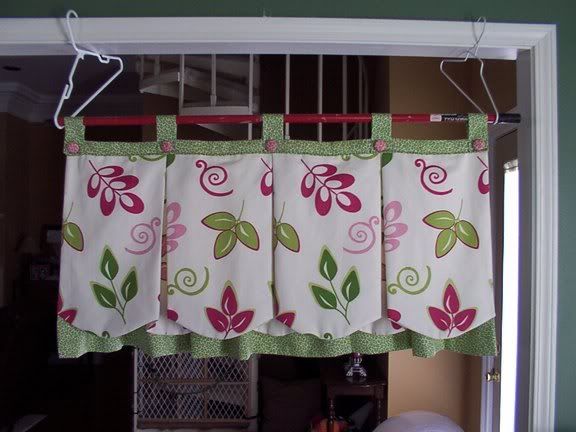 That green lepoard is the same as on the duvet cover and the bed skirt fabric is made from the floral. Because I couldn't help myself, I made those two pillows on the bed to coordinate with it all. I haven't brought my sister-in-law and niece the finished product yet, but I hope they like it. I can't wait to see it all together in the room. I'll be sure to post pictures of it in its proper setting.